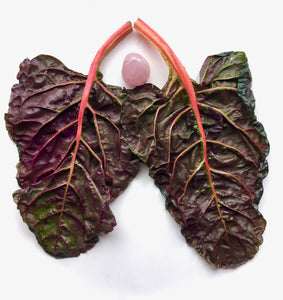 Odette Allen
Red Chard Print
Regular price
$30.00
Sale price
$45.00
Unit price
per
Made from two huge leaves of rainbow chard around a rose quartz heart, I find the color of these lungs a bit ominous. I feel like it's a kind of visual representation of all our worries and anxieties around the pandemic. As our worries twist our fears out of control, this piece asks how do we pause and reset?  When we can find a moment of peace we can see clearly.
Because this artwork is about a very specific event and a certain time in our history, I am limiting purchases to the here and now, to people who know and feel this experience. That means I am doing an extremely limited print run with only TEN prints of each image. That's it. After that they are gone, they won't be printed again for individual sale.
Each piece measures 12" x 12" and is printed on archival paper with a satin finish. To minimize handling they are signed with a digital signature and hand marked edition number from the printer. The piece is shipped to you directly from the printer.
These are printed at a small, local print shop, so you are supporting local businesses as well as my art practice. (Superhero points!)
---