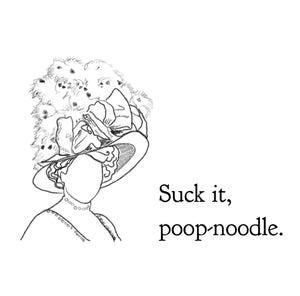 Apiary Art and Design
Suck it, Poop-Noodle
Regular price
$25.00
$0.00
Unit price
per
"Suck it poop-noodle" is one of my favorites to mutter under my breath when my son is being a dick. I live in fear of the day he hears me and starts using it against me.
This open edition print is available in two sizes, and custom printed on archival rag paper. For COVID safety I have them digitally signed and mailed to you directly from the printer.
Postcard now available!
---